Title suggestions can be forwarded to non-OASIS users (such as faculty) using the List/Forward feature within your search results, lists, or other areas in OASIS.
Essentially what you are doing when using this feature is creating a named list with a special command built in that creates a pre-scripted email for the recipient with the option to recommend or reject your title suggestion.

From the Action Arrow or from the menu that appears after you've checked an item, List/Forward will appear as an option.
Even though this is a list, do not use the New List/Create List command
Insert name and email of New Faculty Selector
Add and save optional internal note. This will appear in the specific title information in OASIS as well as for the recipient when they select to recommend or reject the title — not in the actual email text, however.
Select the name (or names) of the Faculty Selector/recipient from the list that appears in the middle of the dialogue box
Uncheck the Add order info before sending if you do not want or need to add order information (fund codes, purchase order numbers, etc.). Order information you include will show in the email to the Faculty Selector
Send (The system sends emails approximately every fifteen minutes. If you suggest multiple titles between notification times, a Faculty Selector may get one email with multiple suggestions.)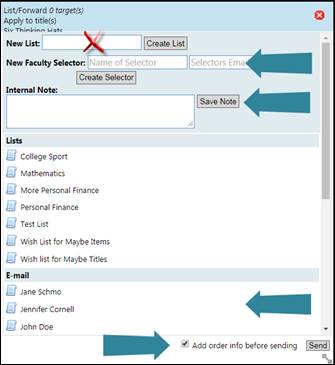 The email (from alias YourLibraryLiaison@proquest.com) will include this language "Your liaison librarian [librarian's name]) has referred the following title(s) to you, for your consideration. Please select either the Recommend or Reject URL for each title below to indicate your interest (or otherwise) in adding the title to the library's collection" along with ISBN, brief description of the title, any ordering information you've included and two links: one to recommend and one to reject.
Clicking on either of the links will result in an option for the Faculty Selector to add a note and additional information as to why they are recommending your suggestion or rejecting it.
NOTE: This is where your Internal Note will appear, not in the body of the email itself.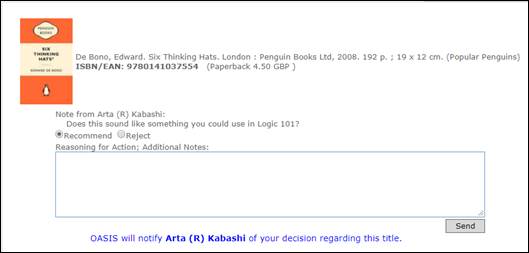 After the Faculty Selector responds with a recommendation or rejection, you will see a new message in your OASIS Inbox. In blue, you will see if the title was recommended or rejected. If you mouse over the Internal Notes wording, you will see any notes that were added. Additionally, you can see the status of the title such as if it is in your Shopping Cart, Awaiting Ratification, etc.