If your Ebook Central site uses the
"Patron Login" method of remote authentication
and is set to
allow patrons to request an account
, then:
Pending account requests will show on the LibCentral home page
Account requests will also be emailed to at least one indicated librarian (under LibCentral > Settings > Alerts > Patron Account Request Alert).
To view all pending patron account requests:
Go to your LibCentral site and sign in
On the home page, you'll see "Account Requests" near the top-left.  The number indicates the number of pending account requests. Click on "Account Requests" to reject or approve them.

Then click on an individual username to see the details and take action.
You can then click to approve or reject the request, and optionally set an account expiration date.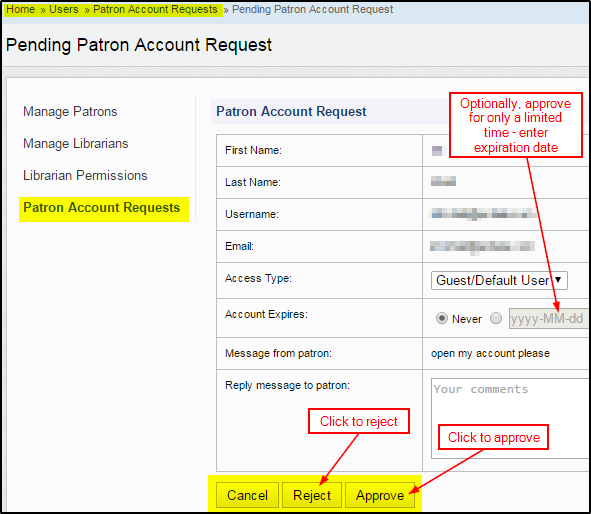 If you approve the request:

the patron is notified by email that their login is active (username = email address, password can be set at their first login attempt)
the patron can then use their login to access your Ebook Central site from anywhere (some territory restrictions may apply).
For more general information about Patron Login authentication
,  
>See more