Some Ebook Central ebooks are provided to us by their publishers in a file format that allows the text to be resized in the online reader, so they are compatible with online reading on a small mobile device.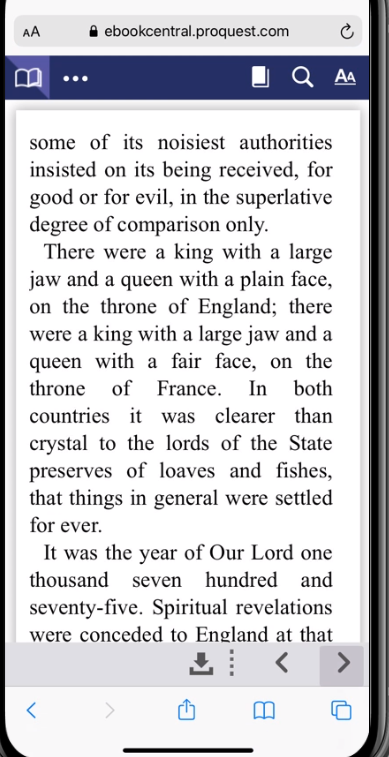 Other Ebook Central titles are in a format that do not allow the text to be resized, and for those titles the online reader is not optimized for use on smaller screens such as a mobile phone. (For more details about  supported devices, see Ebook Central: Supported Devices, Operating Systems (OS), and Browsers)
To access these Ebook Central book on your mobile phone, we recommend downloading the book for offline reading using Adobe Digital Editions on iOS and Android (You can choose your favorite Adobe DRM-compatible ebook reader app).  However, if a book is not available for download or you do not want to download it, you can still use the online reader on your mobile phone. When you open the book, the table of contents sidebar is collapsed to allow you to view the book's content on the small screen.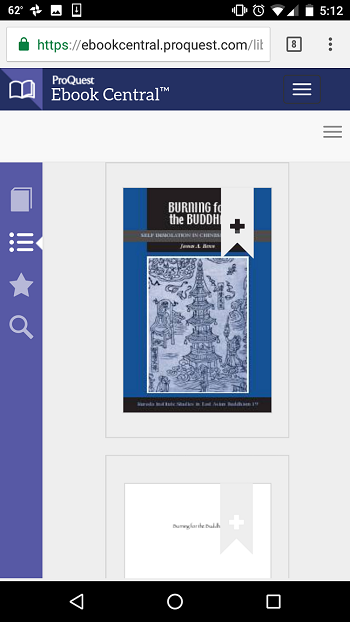 Note that the pages may display too small to be truly usable on the phone's screen. If this is the case, you can open the online reader menu to use the zoom buttons to increase the size.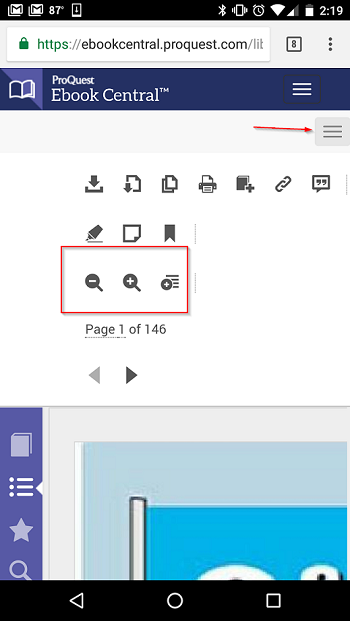 When you increase the zoom, as a result the page will no longer fit completely on the screen. For this reason, we recommend downloading to Adobe Digital Editions for offline reading for the best experience on mobile devices with small screens.  When full download is not available, consider using the chapter download feature to download a DRM-free PDF of a specific chapter (subject to daily page limits, see Ebook Central: Per User Per Day Copy, print, and download limits).