You can copy an entire page, or just a selection on the page:
To copy an entire page, open the book in the online reader and go to the page you want to copy, then click  "Copy" without selecting any text first.
To copy a particular selection of text, select the text to copy, then click  from the pop-up toolbar.
To complete the copy, press Control-C: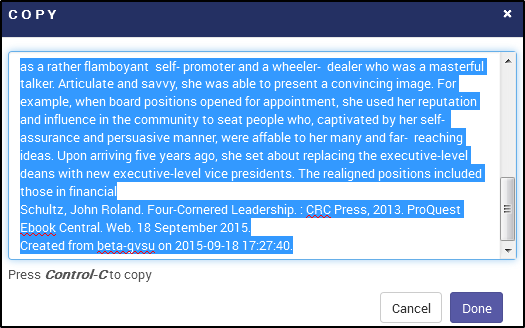 Only text is copied, not images
A citation is automatically included at the end of the copied text
Note, citation preference can be changed under at the top right of the screen
Limits on the number of copies:
For each book, there is a limit on the number of pages you can copy from
Copying multiple selections from the same page only counts as one copy
For most books the copy limit is 20% of the book's pages

Example, if the book is 200 pages long, 40 pages can be copied from

And good news - these limits reset after just 24 hours!
The copy limits for a book, including the number of copies you have remaining, are displayed on the book's Detail Page.  To see this information while reading a book, click  "Book Details" on the side bar to display the details in the left panel.  > See More
If you're browsing without having signed in
(some Ebook Central sites allow this),
you will be prompted to sign in before you can copy.Tip for tablet users:
When reading a book online on a tablet, selecting text is not an option - but you can still copy an entire page since no text selection is required.
Just go to the page you want to copy and click  from the tools across the top.