Search your library's catalog more completely
For libraries that have Z39.50-compliant catalogs with ISBN, ISSN, LCCN, or Predictable URL capabilities
Introduction
This feature enables library staff members and/or patrons to see if a title they've found in Books In Print®, Global Books In Print®, or Resources for College Libraries® is located in their library.
 
First, the license administrator must establish a profile (see "How to Establish a Profile" below for instructions). Setup is easy via Predictable URL or for libraries that have Z39.50-compliant catalogs with ISBN, ISSN, LCCN, or Title Search capabilities. Once the profile is created, the user simply selects the title and clicks on Search Catalog to show availability in their ILS catalog.
 
If a library has a consortium account and has several catalogs, users can choose which catalog to search when using Z39.50 or if using Predictable URL, all branch information will be displayed. (If you have both profiles setup, Predictable URL will be used instead of Z39.50.)
If using Z39.50, users select a title, and they arrive either at a drop-down menu that lets them choose a catalog (if more than one is available) or at a screen that lists the library's holdings for that title. Results of the search are returned in the Books In Print website interface. If the user wants to "act" on that item (place hold or ILL), they would have to open another window, go to the library's catalog and re-enter the search terms in the catalog before they can do anything else.
If using Predictable URL, your catalog will automatically open, enabling you to see the status of the title. In addition, the Predictable URL link allows catalog searching on three terms. Z39.50 uses Books In Print and searches only the ISBN.
ISBN (no dashes)

Title (Title only – not subtitle),

Author (Last Name, First Name format and if no author, the first contributor will be passed
For Professionals
Search Books In Print, then easily check Hooks to Holdings to verify which titles you own and which ones you should purchase.

For Patrons
Search the full breadth of Books In Print, and then see if the library has the book you need. Place a hold or request an Interlibrary loan without having to leave Books In Print.

OCLC and WorldCat
Now you can link to the holdings of libraries across the country through a new seamless link to OCLC's WorldCat via Z39.50.
How to Establish a Profile
Your License Administrator will need to do the following:
1.  Click on Administrator on the top navigation bar and enter your username and password.  If you do not know your credentials, please contact technical support for assistance.
Your library information will appear on this page: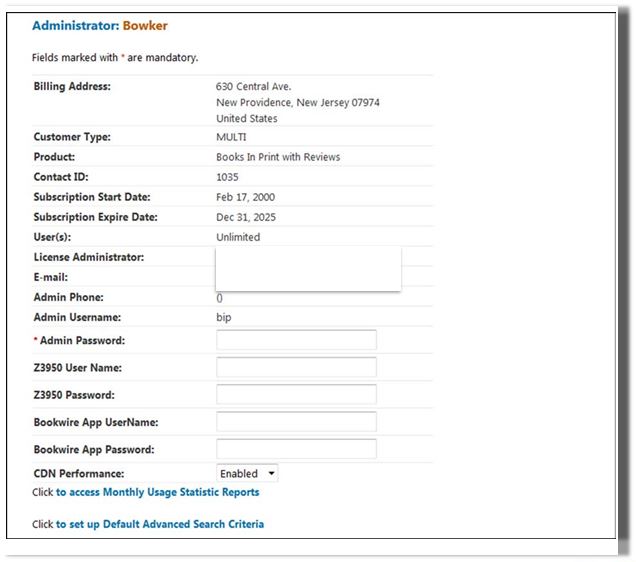 2.  Further down on the page, click the link for "Create or Modify" to create or modify your Z39.50 Catalog Profile or Predictable URL for Hooks to Holdings (Search My Library's Catalog) Profile.

If you choose Predictable URL, this screen will appear:

Enter the URL structure you wish to employ, and then click SAVE. If you choose later to revert back to Z39.50 linking, simply delete the URL in the box and click SAVE.
If you choose Z39.50, this screen will appear:
Complete the profile page.

 

Currently, Books In Print searches Z39.50-compliant catalogs that allow remote searching on ISBN, ISSN, LCCN, or Title Search.
Here you will determine how precise or broad you would like the searches run against your OPAC to be.  If you only wish to search on ISBN, leave the optional fields of ISSN, LCCN and Title Search blank. 
However, if you want to receive better matches for your search, regardless of format (hardcover vs. softcover, for example), include these additional fields in your profile.
If you are unfamiliar with the settings of your catalog, please check with your technical services manager.  Below is an image showing the default configuration settings for part of the Z39.50 configuration process, which you may use in conjunction with the data received by your technical services manager.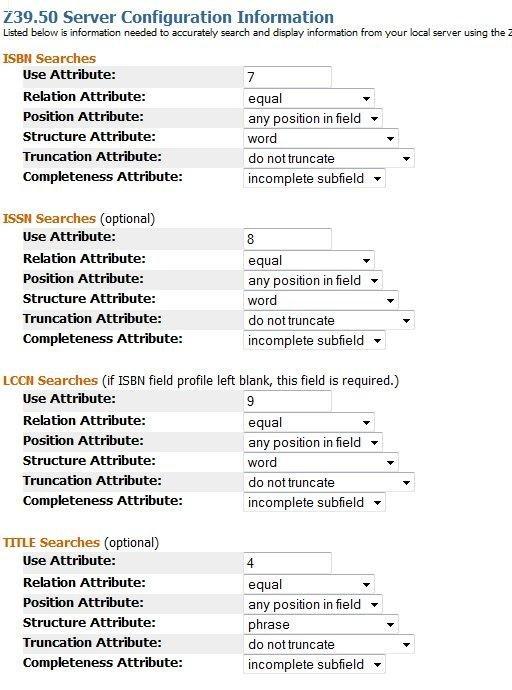 For consortium accounts with multiple catalogs, select the NEW PROFILE button if you want to create additional profiles.
3.  Once a profile is saved, users can select Search Catalog on the Search Results page, Full Description area and its tabs, and the Lists area to launch a search of their catalog.  After clicking the "Search Catalog" link, z39.50 users will be prompted to select a profile.  Predictable URL users will receive a pop-up window showing any results available in their OPAC. 
Examples:
From the SEARCH RESULTS screen:
If using Search Catalog from a list of search results, you can select and search up to ten titles at a time
.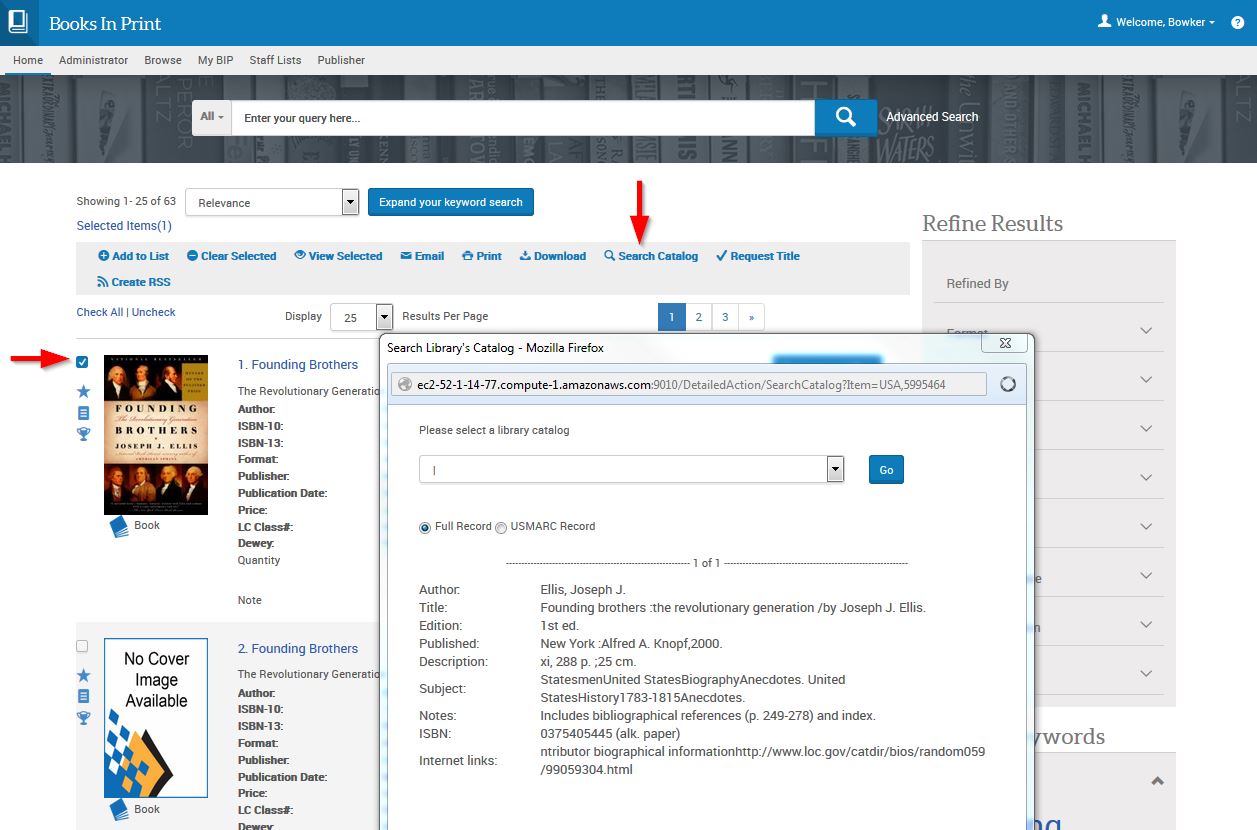 From the FULL DESCRIPTION screen:
From within a LIST:
If using Search Catalog from a list of search results, you can select and search up to ten titles at a time
.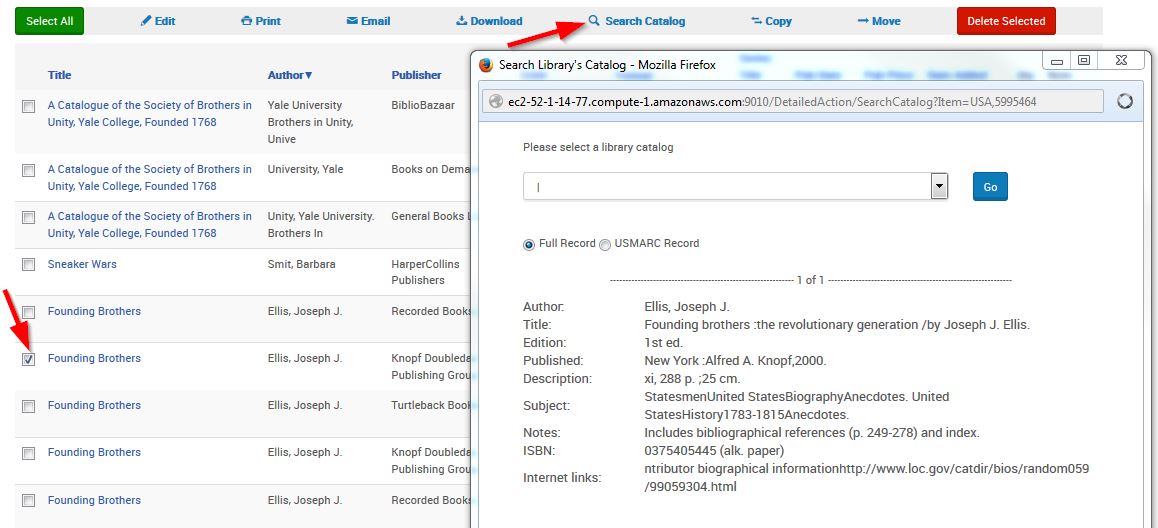 Note that the amount of information retrieved depends upon your automation vendor. Not all systems provide the status of holdings
Troubleshooting
First, contact your account's License Administrator. To find out who that is, select the MY ACCOUNT button on the top navigation bar.

If a "Hooks to Holdings" profile was created, the License Administrator should verify that the profile information was filled out completely and correctly. We strongly suggest that the License Administrators review this profile information with the Z39.50 staff expert, or library automation vendor.

If the profile information is correct, there may be several reasons why the search does not work:

The local server at the library could be down, busy, or experiencing heavy use.

The local catalog may not support ISBN remote database searching.

Records chosen to search do not contain ISBN numbers.

The port number in the profile is not an accessible port number.

The inbound/outbound traffic should be fully open for this server IP address, 165.254.62.3.
For more troubleshooting and technical information, contact technical support.