You may have noticed a difference in your catalog, thanks to the recent infrastructure upgrade from Syndetics Unbound. We are happy to share that nothing is needed on your part to begin or complete this upgrade. Please scroll down for FAQs and to find out how others are enjoying Syndetics Unbound as their enrichment tool.
So your library has been upgraded to the Syndetics Unbound platform. Here's what you need to know!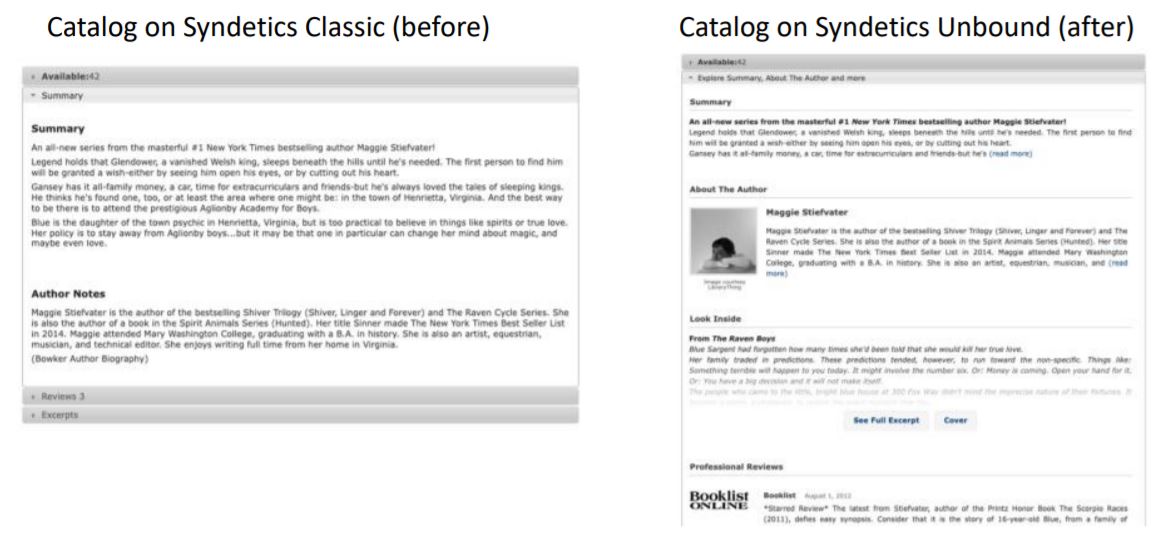 Frequently Asked Questions:
What is the Syndetics infrastructure upgrade?
The Syndetics infrastructure upgrade improves the way content is delivered through your OPAC or discovery system.
Will this cost more?
No, there will not be a cost associated with this upgrade.
What data does Syndetics Unbound collect?
Syndetics Unbound uses the ISBN, title, author, and sometimes other bibliographic data (e.g. call numbers) found on the record to determine the work the catalog page represents, so we can show the relevant enrichment.
Syndetics Unbound also collects timing and browser dimensions to help us provide usage statistics for the library and show the product in the format appropriate for the user's screen. All statistical data is stored anonymously.
All queries use secure (SSL/HTTPS) requests. Syndetics Unbound does not request the user's search query or search history. We have no access to any patron information (e.g., names, checkouts, etc.). As is standard on the web, requests, such as requests for covers, are sent with their "referrer," which can include the search string. We do not parse, use or store these.
Why is Syndetics upgrading its delivery infrastructure?
We are aiming to offer a more flexible, modular infrastructure, allowing for dynamic content.
What's different?
No content has been removed, but depending on which elements you subscribe to, you may see additional features. This includes an updated "Look Inside" which combines the Excerpt, Table of Contents, and Cover Image elements, as well as an author photo (where available) in addition to the biography in Author Information.
What is the process?
For ILS Partners, the ILS will tell you about the upgrade and it'll automatically be completed.
For ProQuest direct customers, you will receive an email from ProQuest and a date will be provided.
When will the infrastructure upgrade happen?
Depending on who you buy Syndetics Classic through, you will be notified individually via email with the upgrade date.
Can we change the upgrade date?
No, no action is required from you, so changing the date is not an option.
What action is required from you?
Nothing, the upgrade will be automatic and will happen on the date previously given.
Who do I contact regarding problems or questions?
Please contact us at syndetics.unbound@proquest.com.
Customer Feedback
Please send to syndetics.unbound@proquest.com. Some things to think about when providing feedback:
Do you think the new environment will improve circulation?
Would you be interested in partnering with us for statistical research?
What do I do if the data is incorrect?
Please contact us at syndetics.corrections@proquest.com.
Still have questions?
Visit syndetics.com to learn more about the Unbound platform
Hear from Syndetics Unbound customers about how it's changed their user experience:
"The British Library is delighted to integrate Syndetics Unbound into its catalogue and 'Explore the British Library' based on the Primo® discovery service," said Chris Martyn, Collection Metadata Systems Manager and Frances Lill, Electronic Services Manager, both of The British Library. "The enriched data of Syndetics Unbound will dynamically improve the user experience of the library's main catalogue."
"Since implementing Syndetics Unbound in our Enterprise catalog in May 2017, MVLC (Merrimack Valley Library Consortium) has received positive feedback from our member libraries. MVLC library staff use the features in Syndetics Unbound to guide their patrons to new series and similar works based on interest and reading level.
The staff enjoys the power of the intuitive interface, breadth of coverage, and quality reviews. They appreciate unique features like the tag library. Syndetics Unbound uses our consortium's holdings to enhance discovery of the collections readily available at MVLC's member libraries. Given the diverse demographics within our communities, we are delighted that Syndetics Unbound offers an accessible interface that responds to the language selection within our catalog and updates its content labels accordingly.
Our usage statistics bear out our selection of Syndetics Unbound; patrons in MVLC communities are interacting with Syndetics Unbound content. We hope to enhance our experience with Syndetics Unbound by making it ever more visible within the catalog. MVLC will work with our member libraries to fully implement display widgets, which have the potential to drive traffic back to our catalog and through the door of MVLC's member libraries. The Syndetics Unbound team is unparalleled and we look forward to the continued development of this quality product." - Molly Driscoll, Collaborative Services Librarian, Merrimack Valley Library Consortium