Welcome | Get Started | Training | Global Support | Admin Resources

Welcome
Summon 2.0 is a new, streamlined, modern search interface with new and enhanced features that provide layers of contextual guidance. Beyond what is available in Summon 1.0, it presents a more compelling starting place for researchers, offer more opportunities for librarians to connect with users, and empower librarians to directly impact the discovery experience.
Summon 2.0 provides an interface that is not only optimized for academic research but that is familiar, easy and compelling to use.
The left-side pane Facet pane (#1 below) for refining search results, including the Discipline facet as a default Facet and the ability to select multiple facets at one time.
The center pane Results pane (#2 below) displaying search results, including Automated Query Expansion for enhanced search recall, and Content Spotlighting for enhanced visibility of available source types.
The right-side Explorer pane (#3 below) for previewing expanded metadata about an item, or exploring topical information presented via the Topic Explorer.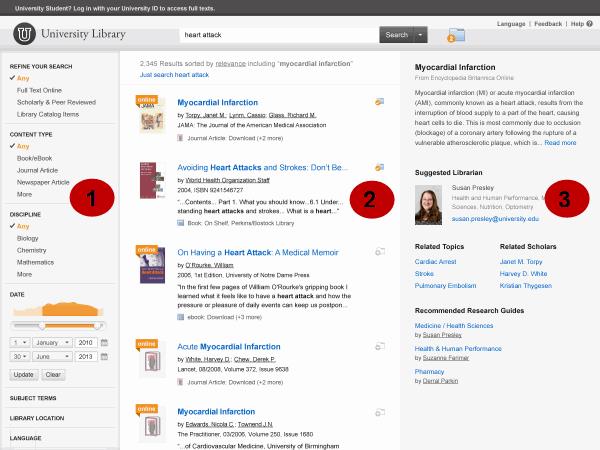 Summon 2.0 also enables users to enjoy a better research experience from any internet connected device through responsive design, without loss of functionality. In addition, Summon 2.0 enables you to integrate chat and reference widgets while also providing researchers with the ability to save research citations through ProQuest RefWorks and integrate Altmetric badges and link to more Altmetric details.
For a full list of available enhancements through Summon 2.0 please visit the Summon 2.0 FAQ or quickly view how Summon 2.0 adds more benefits and features not in Summon 1.0.
Get Started
There are three primary steps to getting started and moving to Summon 2.0.
Determining if your library is using Summon 2.0
Access and review the dedicated preview site for your library
Enable Summon 2.0
Determining if your library is using Summon 2.0
First, you need to determine if your library is using the 2.0 interface. A quick way to tell is to view the Summon search box:
Search box in the Summon 2.0 interface:

Search box in the legacy Summon interface (includes links to advanced search and radio buttons below search box):

Access and review the dedicated preview site for your library
Each library has a Summon 2.0 preview environment that is configured with their holdings information and customizations.  A library can access the dedicated preview site for their library at http://yourlibrary.preview.summon.serialssolutions.com, where "yourlibrary" is the same as the URL prefix of your current Summon site.
Enabling Summon 2.0
To enable Summon 2.0 for your institution, please contact us menu at the top of this page. The support team will activate the new user interface within 1-3 days. More opt-in information is in the Common Questions about Summon 2.0.
Notify Me: Want to stay up to date? Sign up for updates by clicking "Notify Me" at the top of the page.
Training
There are several documents and webinars that you can take advantage of to learn more about Summon 2.0 and how to transition to it. We encourage you to take advantage of each resource and contact us with any questions you may have.
In addition, there are several customer videos that you can review to learn more about Summon 2.0 and discover how other libraries promote it:
As always, if you need to talk to someone about Summon 2.0 please contact us.
Global Support
ProQuest offers best-in-class customer service and technical support, so you can hit the ground running.
If the above information does not answer your questions feel free to contact us and we will be happy to assist.
Admin Resources
Visit the ProQuest Support Center for more comprehensive information about Summon 2.0.