Demand Driven Acquisition (DDA) on Ebook Central provides the ability to offer access to relevant ebooks of your choice using profiles or manual selection directly in the LibCentral platform. With profiles, the library determines what ebooks are available to patrons using inclusion and exclusion criteria such as subject, publisher, publication date, and/or price limit. The profiles identify ebooks suitable for the library and requests to make changes to the profiles can be submitted at any time to your Collection and Workflow Consultant.
Libraries with content profiles set up to send "new title alert" spreadsheets (i.e., no automatic updates) can manually select titles for inclusion in their DDA collection using the instructions set out in our documentation for Manual Title Additions and Deletions (available in LibCentral under Help ->Help Documents).
You can add a title to your DDA pool at any time by searching for the title in LibCentral, click the Modify link next to Visibility Off and change to On. 

This will add the title to the DDA_INCLUDE list, which will be associated with your profile, and ensure that Visibility will remain on unless the title is removed from the platform or becomes ineligible for DDA.  After clicking "modify", a pop-up will prompt you to update the visibility and download a Marc record.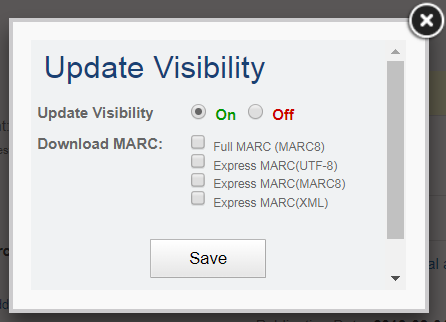 If your library uses Ebook Central MARC records, you will want to export a MARC record at the time you adjust Visibility because addition MARC records will not be delivered automatically when visibility is adjusted manually in LibCentral. This is because the DDA content profile only sends MARC records for titles on which it adjusts visibility.
Visibility can be turned Off and a deletion record downloaded in the same way.
**It is important to note that turning Visibility On for a title will not only make the title discoverable by your users on Ebook Central, the title will be subject to the DDA triggers of reading beyond 5 minutes, copying, printing or downloading.  The expenditure triggered will reflect the current settings in your access permissions. 

**Please also note that turning on visibility for a title will only make it visible to your patrons if the "Owned, Subscribed, and DDA Selected" option is selected under the Visibility settings in your Access Permissions, under the "General" tab. If your DDA titles are not visible even after selecting this option, please contact Ebook Support by selecting "Submit a Case" on the ProQuest Support Center, because we may need to adjust a setting on our end.
To change the visibility of multiple ebooks at once, use the Title Match feature in LibCentral, found under the "Collections" tab.
Some LibCentral librarian permissions prevent LibCentral users from changing an ebook's visibility. If you are unable to change the ebook's visibility, go to LibCentral > Users > Librarian Permissions to review the permission settings. You can review your permission status in LibCentral > Users > Manage Librarians.