To change a LibCentral password
:
There are two ways to reset a LibCentral password. If you have forgotten your password, simply click on the 'Forgot your username/password?' link on the login page for LibCentral.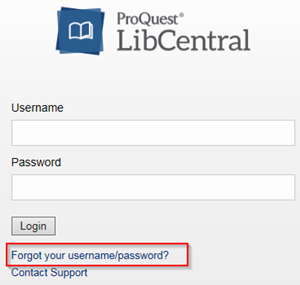 When you click this link, you will be asked to enter the email address associated with your account. You will receive an email with your username and a link to reset your password.
The second method is to change the password directly in LibCentral. You can use this option if you remember your password but would like to change it, or if you are updating a password for a colleague on their request. To do so, follow these steps:
1.
Go to your LibCentral site
at:
https://YOURSITE.ebookcentral.proquest.com/libcentral
(where YOURSITE is your Ebook Central site identifier)
2. Under "
Users
" select "
Manage Librarians
"


3. Click on the desired username


4. Click on the "Change Librarian Password" tab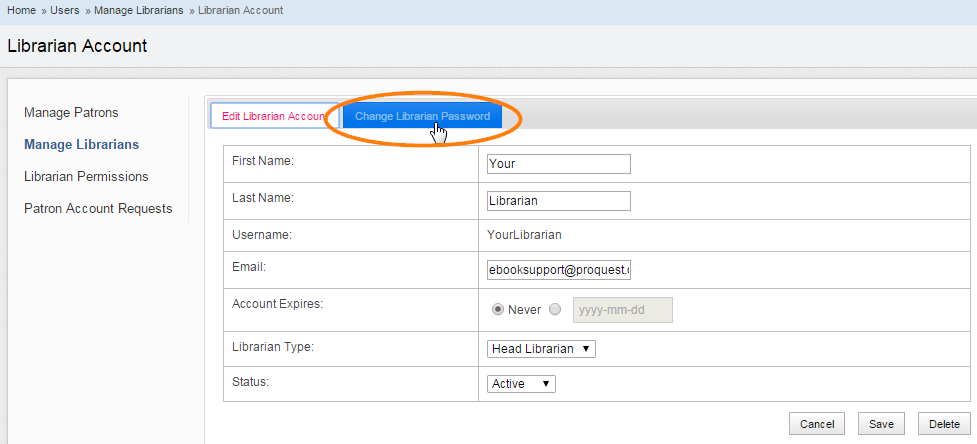 5.
Enter and re-enter the new password
where prompted
6. Click "
Save
"
If you are unable to access your LibCentral account or the 'Forgot your username/password' link, please
contact
the Technical Support Team for assistance.