All researchers, regardless of ability, need access to scholarly information. ProQuest is committed to providing all our users with a fully accessible experience for research, teaching and learning. 
At ProQuest, we make every effort to ensure that our platforms – including OASIS – can be used by everyone. OASIS is continually designed and developed to meet Level AA of the W3C Web Content Accessibility Guidelines (WCAG 2.1) and Section 508 of the US Rehabilitation Act for features and functions.
Accessibility of this site
Users of OASIS should be able to:
navigate most of the website using just a keyboard. 
go directly to main content areas on the page using skip links.
listen to most of the website using a screen reader.
navigate most of the website using speech recognition software
zoom in up to 400% using browser tools without text spilling off screen.
There may be some parts of this website that are not fully accessible:
Alternative text is missing in some database search results
The screen loader and nav tab index does not work consistently across all browsers
Magnification up to 400% in a browser does work but some elements are misaligned
Alignment is off in resolutions 1034px wide or smaller
These issues have been noted in the OASIS Accessibility Roadmap with the issues being resolved by Q4 of 2020.
If you have a disability and need to make your computer, tablet or other device easier to use,
AbilityNet
is a recommended resource.
Technical Information about this site's accessibility
OASIS is committed to making its website accessible, in accordance with:
Level A and Level AA of the W3C Web Content Accessibility Guidelines (WCAG 2.1)
Section 508 of the US Rehabilitation Act for features and functions.
The Americans with Disabilities Act (ADA)
Public Sector Bodies (Websites and Mobile Applications) (No.2) Accessibility Regulations 2018.
Compliance level and report 
This website is partially compliant with the Web Content Accessibility Guidelines v2.1 AA standard, due to the non-compliances listed below. 
Access the full
Accessibility Compliance Report
(VPAT 2.3 and WCAG) for OASIS.
Accessibility of content on this site
While using the OASIS Platform, you may come across several types of formats and content types. These formats are provided by the platforms that OASIS distributes access to the users through a Request and Approval process that varies from customer to customer. To help you learn about how best to access and use this content, we've noted our recommendations below, along with known issues that may affect accessibility. 
Textual content and navigation 
OASIS strives to create a user friendly and an accessible platform for all. The Road Map lists out the known issues and when they plan to be addressed. Textual content within the application itself is a combination of content developed by OASIS and selected information from platform publishers (for Search results, Title details and similar). Content provided by platform publishers is not directly monitored by OASIS. Links to See inside the book, EBooks and other alternate formats are provided by the platform/publisher.
Please refer to the latest
VPAT
and
Road Map
for known issues and expected date of when these will be addressed.
Known issues
OASIS is aware of issues related to accessibility and these have been listed in detail in the VPAT and Road Map. These are scheduled to be fixed with releases later in the year of 2020. These issues are:
Missing alternative text and form labels for some links and images in Search Results
Empty heading tags in Search Results
Broken ARIA tab index
Removal of split screen which will hinders screen reading and tabbing functionality
Removal of the split screen will also fix other outstanding issues such as contrast and tab order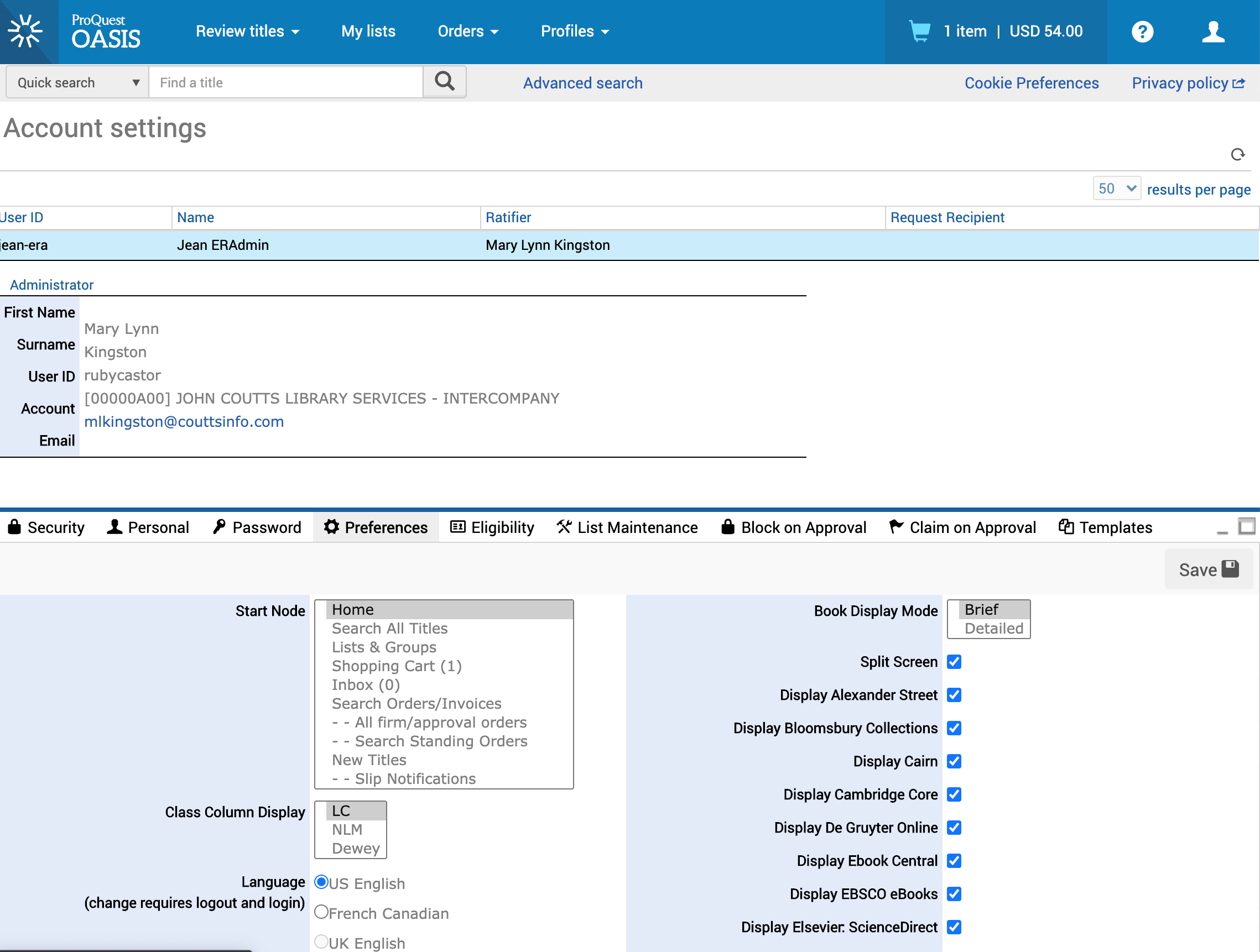 Search results content 
User search results are achieved by querying the numerous platform databases available. OASIS manages how that content is displayed to the user. The example shown is a common results page (NOTE: the split screen is being phased out and explained and defined in the
Road Map
).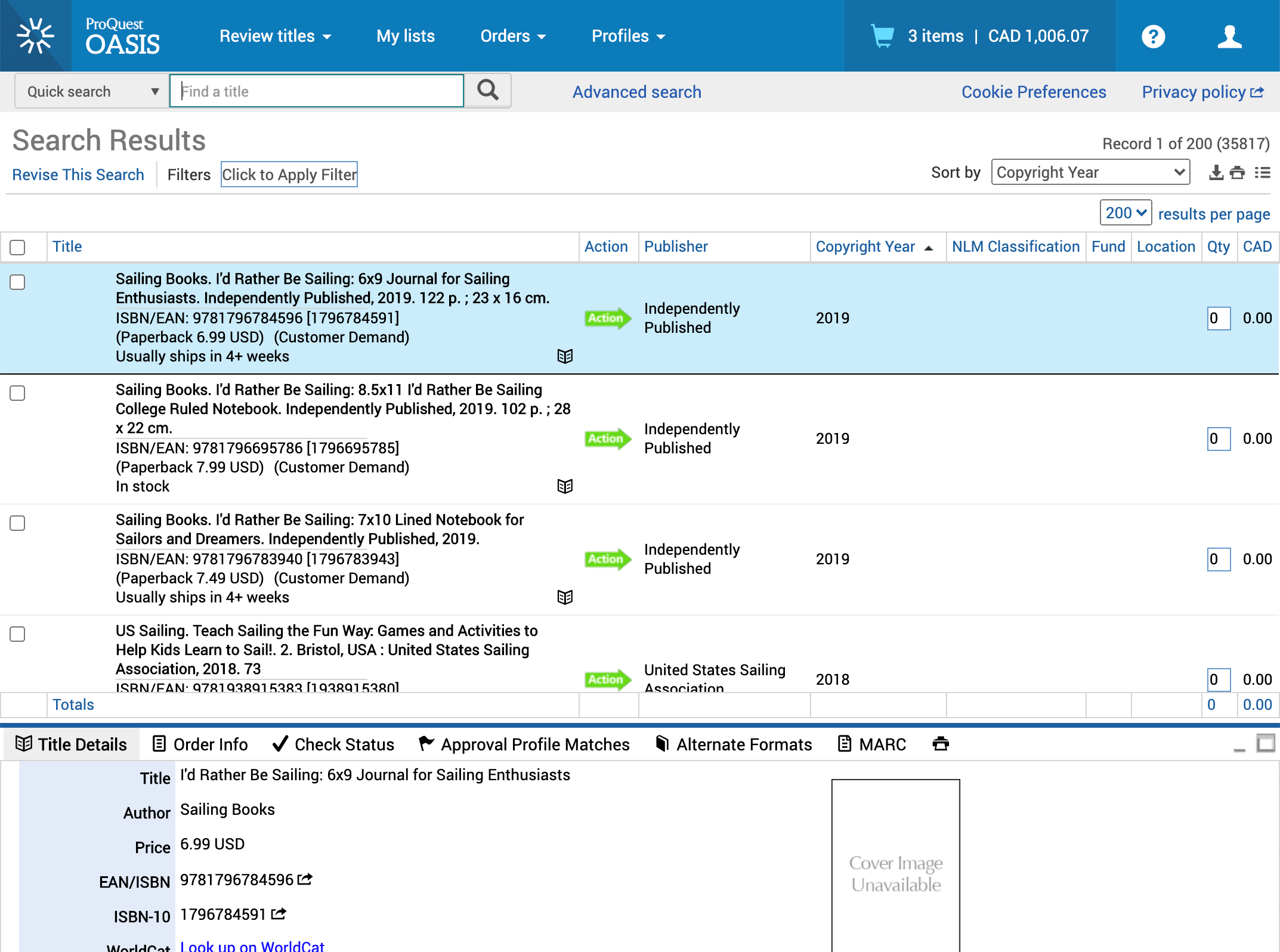 Accessibility Testing
The accessibility of OASIS is a continual effort at ProQuest. Accessibility standards are built into our design, and style guides and included as part of requirements in our software development and quality assurance pipeline.
OASIS code is checked for accessibility using a range of automated and manual checks including but not limited to: 
Color Contrast Analyzer provided by WebAIM
Deque aXe accessibility testing tool
High Contrast Chrome extension
Keyboard-access manual testing and assessment
WAVE (Web Accessibility Evaluation tool) provided by WebAIM
NVDA (NonVisual Desktop Access) screen-reader with Windows
VoiceOver with Mac
OASIS is tested on the latest version Firefox, Safari, Chrome, and Edge, and on devices including Mac and Windows computers, and Android and iOS devices.
What We're Doing to Improve Accessibility
Making content accessible is an ongoing effort at ProQuest. We're committed to working with the community to ensure we continue to meet our customers' needs. A list of our ongoing efforts include:
The ProQuest Accessibility Council: a team of stakeholders working to increase accessibility resources and capabilities 
Pursuing partnerships with colleges, universities and other institutions to assist us in reviewing and updating our accessibility standards 
Supporting certifications for our employees
Consulting with accessibility experts such as Deque 
Support and feedback
ProQuest support services are available to accommodate the communication needs of users with disabilities. If you have difficulty accessing specific OASIS content with adaptive technology, contact us using the links provided below.  
Online:
ProQuest Technical Support
Phone:
United States & Canada (toll free):
+1 800 889 3358
Outside North America:
+800 4997 4111
or
+1 734-707-2513
Preparation of this accessibility statement
This accessibility statement was prepared on May 25th, 2020. It was last reviewed on June 8th, 2020.
The website was last tested on January 15th, 2020. The test was carried out internally at ProQuest.