1. What is COUNTER 5?
 
COUNTER (Counting Online Usage of Networked Electronic Resources) is the international standard used by librarians, publishers, and other content providers for reporting usage statistics for electronic resources in a standardized way.
The "COUNTER Code of Practice for Release 5" is the latest version of that standard that replaces all earlier versions.
2. Why is COUNTER 5 important?
Project COUNTER's mission "COUNTER exists to develop and maintain the standard for counting and reporting the use of electronic resources. It will ensure that content providers can implement the code of practice efficiently and that their library customers and users will receive relevant usage reports in the format they need."
COUNTER's standardized usage reports allow libraries to:
• Compare usage easily across different publisher platforms & vendors and reports/formats are standard
• Assess user activity, in relationship to their content & improve user experience
• Inform renewal and new purchasing decisions
• Justify budget spend to their stakeholders
• Inform faculty/power-users about the value & use of current library resources
• Derive "cost-per-use" for content
3. What are the new COUNTER 5 reports I should expect to find for Ebook Central?
The "Master" reports are semi-customizable, allowing the user to select from a list of metrics they would like to view in the results, in addition to selectable date ranges. The other reports are "standard" views that are only customizable by date range.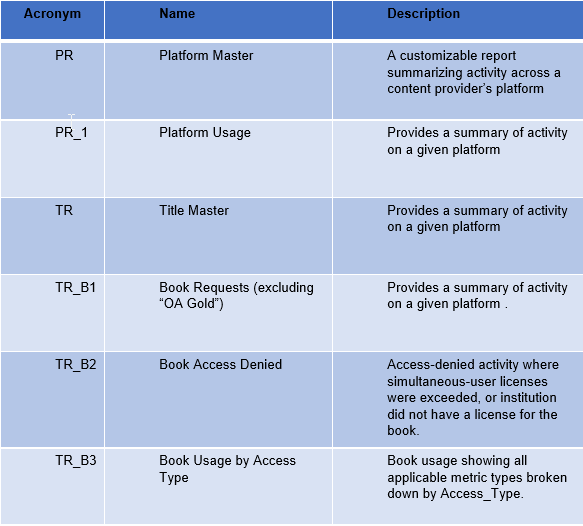 4. What are the equivalent COUNTER 5 reports to the COUNTER 4 reports?
To adapt to the ever-changing world of electronic resources, COUNTER Release 5 has simplified and standardized both the metrics and the reports from COUNTER 4. Please see below table for R4 reports and their R5 equivalents
5. What are COUNTER metrics and how do they map to user actions?
Metrics are designed to measure types of user behaviors. On a high level, COUNTER 5 metrics are divided into "Investigations," "Requests," "Searches" and "Access Denials."
The Friendly Guide to Release 5 for Librarians
is a great resource, and provides key terms, definitions, explains relationships between the metrics and provides detailed examples.    
The below chart is a high level view of some common Ebook Central user actions with corresponding metrics. This is not meant to be comprehensive.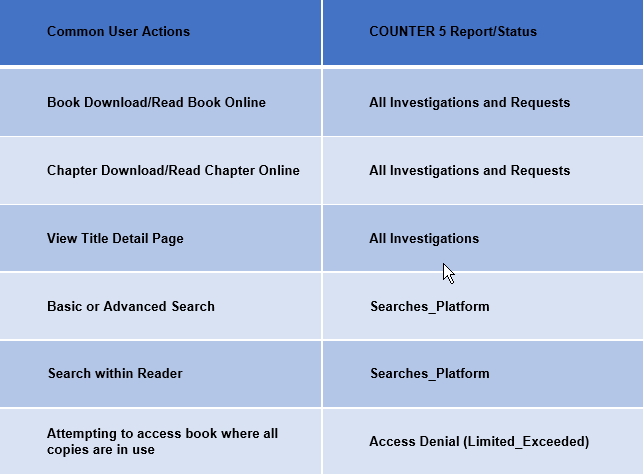 6. Where can I find my COUNTER 5 Ebook Central usage reports?
COUNTER 5 usage reports can be found alongside your COUNTER 4 usage reports in LibCentral portal under "Reports."  
You can request SUSHI credentials for your COUNTER 5 reports directly from LibCentral under Settings > System.
7. Can I still use my COUNTER 4 usage reports?  If so for how long?
COUNTER 4 reports will continue to be available, along with COUNTER 5 reports. Per COUNTER requirements, the COUNTER 4 reports will continue to be available until at least 24 months + current year of compliant COUNTER 5 usage reports are available to the customer. Additionally, COUNTER 4 reports for usage prior to June 1, 2019 will continue to be available.
We will communicate any plans to deprecate the COUNTER 4 reports in advance, in order to give customers as much notice as possible, once we pass the 24 month post-compliance requirement.
8. When will Ebook Central be COUNTER 5 compliant and how far back will Ebook Central COUNTER 5 data go?
Ebook Central is currently COUNTER 5 compliant.  COUNTER 5 data for EBC is available from June 1, 2019.
9. Have any of the other Ebook Central usage reports changed?
No, they have not. The other non-COUNTER usage reports in LibCentral Module including the Usage Report and Title Report, are unchanged.
10. Are there any changes for consortia COUNTER reporting?
Yes, per the Code of Practice for Release 5, content providers MUST support the /members COUNTER_SUSHI API path to provide the consortium with the list of their members on the platform and the SUSHI credentials for each member. This will be supported for Ebook Central. 
Additionally, the consortia will still be able to access the COUNTER reports for their members in HTML and Excel format via LibCentral, as they currently can for COUNTER 4 reports.