How do I create a Direct Database URL for the ProQuest Platform?
Log in to the ProQuest Administrator Module using your Administrator login - http://admin.proquest.com

1. Click on "User Interface"
2. Click in "Create a ProQuest Login URL"
3. Click on "Customize Interface settings" - if you'd like to change the settings for this link from the defaults.
4.  Choose the database(s) that you require the URL for.  This method allows you to choose multiple databases.
5. Click "Create Link" at the bottom of the page.

Copy and paste the URL into your webpage, OPAC, etc....





You can also retrieve Direct database URL's, for single database's, from the database selection screen in the search interface.

Login to the search interface - http://search.proquest.com
1. Click on the database selection link at the top of the page - searching "XXXX databases"
2. Hover over the database name you'd like the URL for.
3. In the lower left corner of the screen you can see the URL you require.   You can also right click and copy the URL then remove the extra information from the link.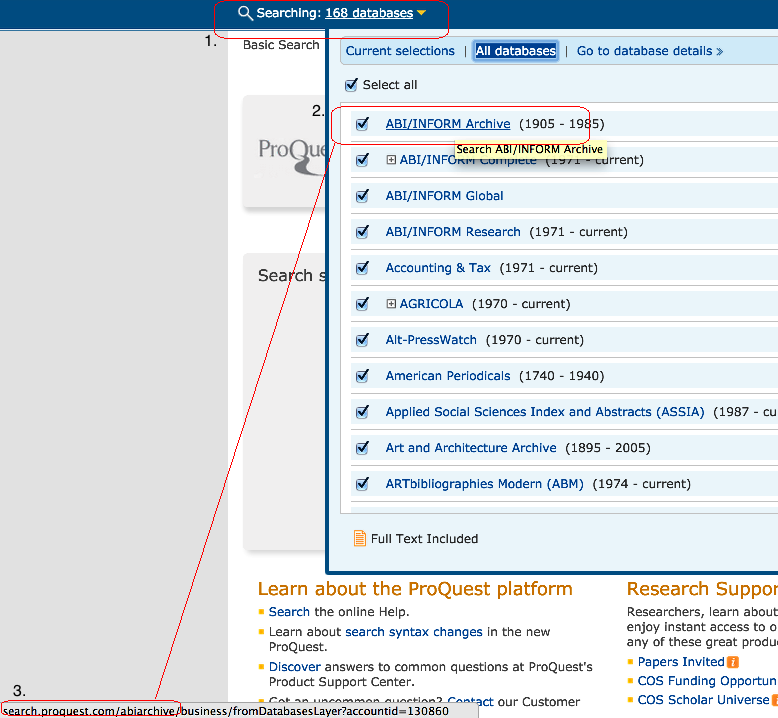 Formats:
Single database URL - http://search.proquest.com/{database identifier name}  
Example: http://search.proquest.com/abiarchive

Multiple database direct URL - http://search.proquest.com/?accountid={accountid}&selectids={database numericalID},{database numericalID}
Example: http://search.proquest.com/?accountid=130860&selectids=1006371,10000008