Trying to access ProQuest remotely but having issues?
If your institution has a subscription to ProQuest, the typical method of access is to first navigate to your institution's library page, find the list of databases on that site, and then select the ProQuest link that you find there.  This link should prompt you to log into an authentication system set up by your institution.  If you do not see such a link or if you have been provided a username/password for access, please see below:

Find Your Library search:
Navigate to ProQuest and search by institution name or domain (ie State University, university.edu, etc).  If you find your institution, click the hyperlink and you will navigate to the remote login page they provided.




Username/Password Access:
If you have been provided a username/password for remote access or you were directed to this article when using the hyperlink described above, follow these steps to log in.

- Navigate to ProQuest

- Click More access options: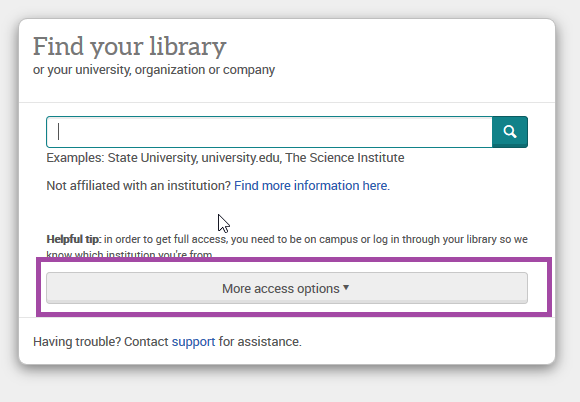 - Enter the username/password you were given in the provided fields: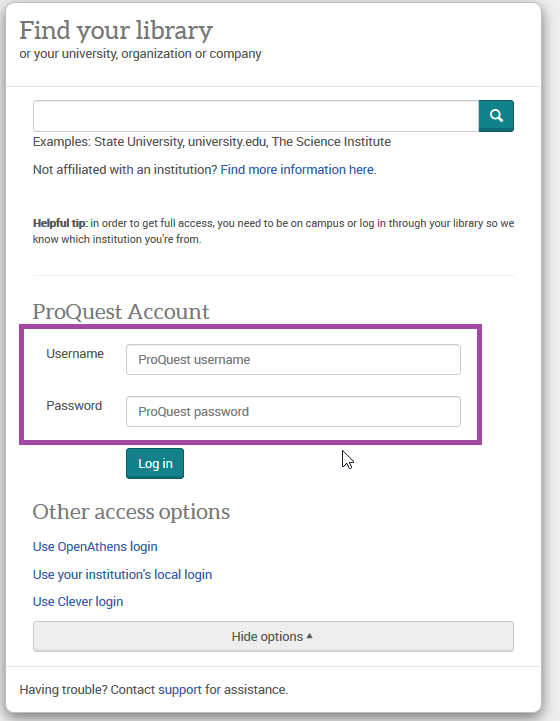 - Click Log in

Please Note:  ProQuest Technical Support is unable to provide a username/password to library patrons or academic students directly.  If you are still unable to log in, please contact your institution's library staff directly for assistance.