The Ebook Central online reader for EPUB enables patrons to read and explore EPUB formatted titles online. Full download of the entire ebook is still available using Adobe Digital Editions.
What features are currently available for EPUB titles in the online reader?
Read Online - EPUB-only formatted ebooks are available to read online
Table of Contents - The TOC can be used to navigate the ebook sections
Font Selection - Patrons can increase the font size up to 200% and decrease to 60% of the 16pt default ebook font size
Two Page Layout -  The two page layout is the default view for desktop/laptop/tablet (landscape) EPUB reader
Swipe Navigation - The EPUB reader is optimized for patrons reading on the go by supporting gestures like swipe to turn ebook pages in the reader
Responsive - The EPUB reader will resize content to display on a mobile phone, tablet, or PC desktop/laptop
Full-book Download - Use the full document download button from within the online reader (subject to your library's access permission settings)
In-book search - Use the in-book search feature to search for words and phrases within the book's text
Copy - Select text to copy to your clipboard to paste into a document
Print - Print the current chapter 
Example of an ebook displayed in the EPUB reader: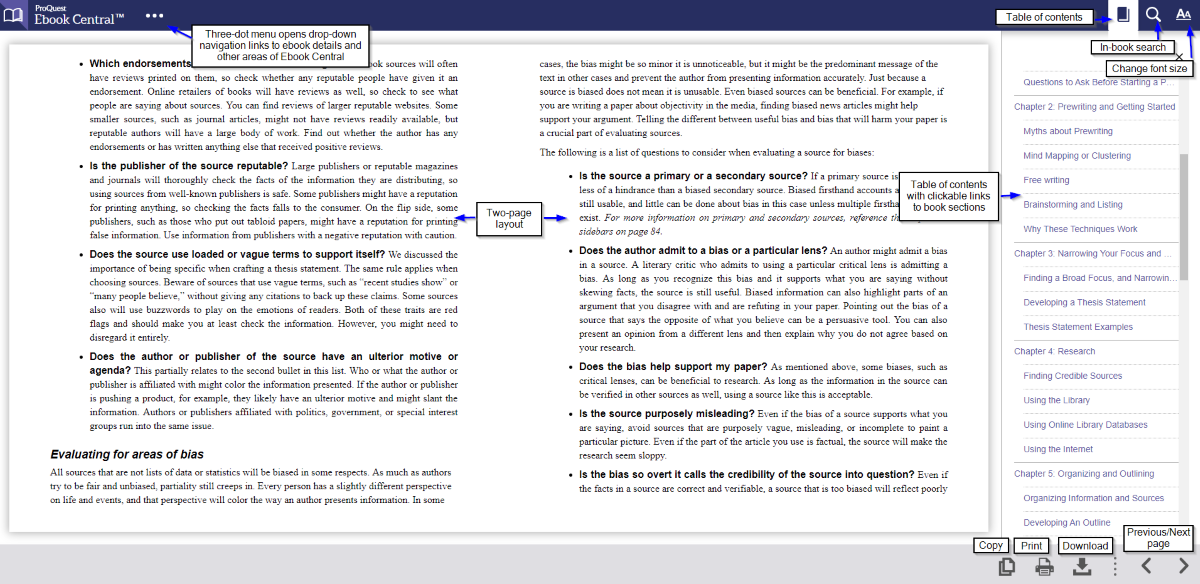 What features are not yet available or in development and will be available in later releases of the EPUB reader? 
Print current page or specific page range
Chapter Download
Icon hover text translations 
Cite (NOTE: Citations can be generated from the Detail page for all titles)
Highlight
Notes