This download setting is available for ebooks owned with the 3-user access model. You can choose to preserve 1, 2, or all 3 concurrent uses for online reading access. The following dropdown options are available: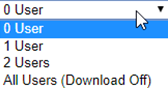 0 User- allows up to 3 users to download or read online concurrently, it is possible with this setting enabled that all 3 uses could be out for download at a given time and read online would not be available until one of the downloads expires
1 User- allows up to 2 users to download concurrently and 1 use will be preserved for online reading
2 User- allows 1 user to download at a given time and 2 uses will be preserved for online reading
All Users- users will not be allowed to download and all 3 uses will be available for online reading
Note: The "preserve reader access" settings are still applied to all 3U titles even when
book-level permissions
are set for specific titles. This means if you would like to disable downloading for most 3U titles but enable it for specific titles, you should not use the "Preserve 3-user reader reader access for All Users" option. Instead, you should set 3-user download days to 0 to disable download, and then use book-level permissions to set non-zero download days for the titles you would like to be downloadable.