With over 200 guides covering many of our content offerings, ProQuest LibGuides offer a wealth of information for your users, 24/7/365.
The right side of the LibGuides home page share recently released guides.
Subject groupings are located in the center of the page. ProQuest LibGuides are available in 8 different languages. Most guides have links to product webinars (upcoming or recorded) as well as information on how to search within the product and some sample searches you can try out.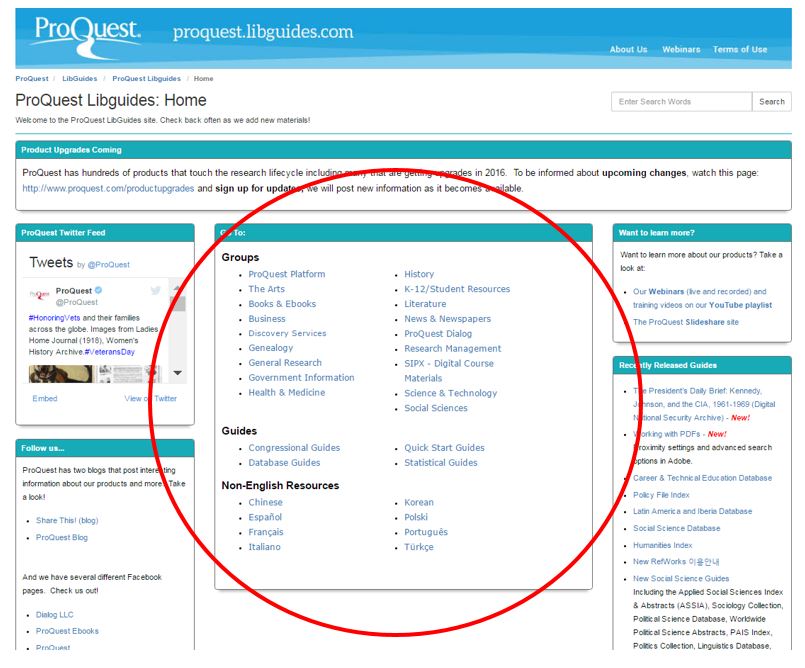 Not seeing what you need? Use the search box in the upper right corner of the page and search for the product you need.


We are happy to have you use the ProQuest LibGuides!
In our LibGuides, we're trying to share information about searching the databases, and about the content in the various products. Please link to them, copy them, forward information about them to your colleagues - whatever allows you to do your job more effectively. You don't need to check with us before you do this.
We will do our best to keep these up-to-date, but if you notice something you think is wrong, please let us know (the link "Report a problem" in our guide footer is used just for LibGuides problems). We want it to be correct, too.
Please feel free to link to, copy or forward information. If you notice something inaccurate or out of date, please let us know by sending us a message on the "Report a problem" link in the LibGuide footer.

To access ProQuest Libguides, please visit
http://proquest.libguides.com/home
.