MARC record updates for your Ebook Central holdings are available via LibCentral
.
The Ebook Central MARC Updates tool will help you track additions and removals for your subscription, owned, and DDA collections.
To access your  MARC record updates, go to 
LibCentral
under the
Collections
tab,
MARC Updates
:

If "MARC Updates" is not showing, it may be that your library has requested they not be shown. You can request this option by contacting Ebook Support (click the 'Submit a case' button in the upper right of any page in the support center). 

On the MARC Updates page, you'll see a line for Subscribed and/or Owned​ (all your subscriptions are grouped together. Optionally, your owned title updates can be included with the subscriptions). If you have one or more DDA profiles, they will each be listed as well (if your library has chosen to make them visible). For any of the listed MARC record sets, if new updates are available since you last downloaded your MARC records for that set, it will say "Yes". Click either the MARC record set name or Yes to proceed to the MARC page for that collection. We'll look at Subscribed and/or Owned as an example: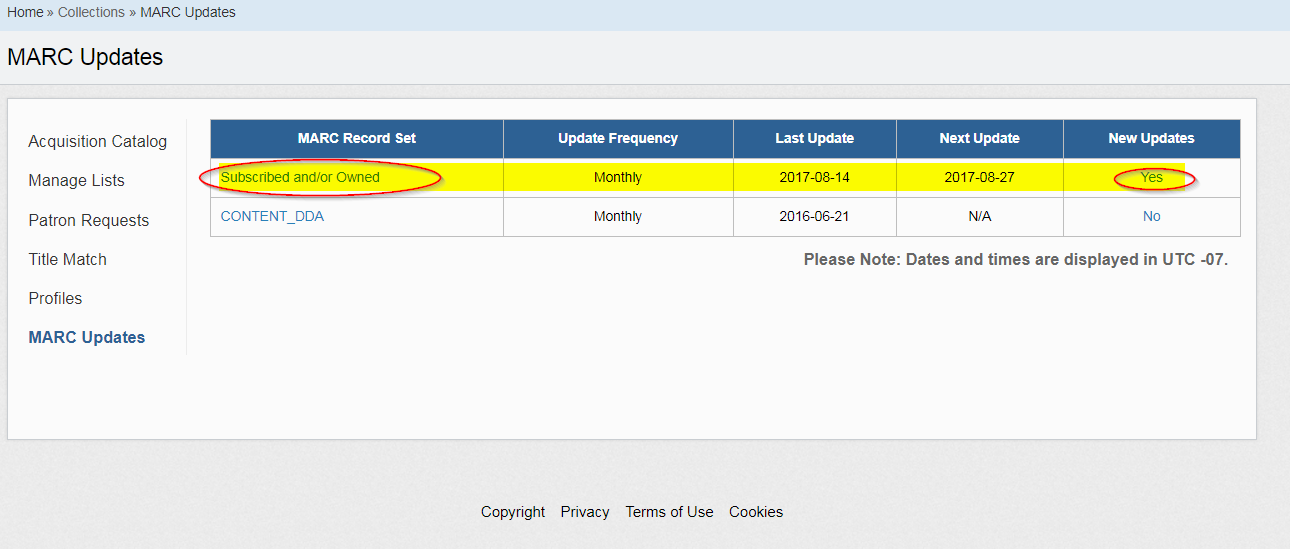 The subscription and/or owned MARC page looks like this:
The dated rows list the oldest at the bottom, the most recent at the top.
The bottom line will have the complete set of MARC records for your subscription(s). Above that, the lines will just have the adds and deletes that occurred since the prior line.

You can get a complete set of MARC records for your subscription(s) at anytime from the LibCentral Dashboard  >See more
If you upgraded from ebrary, and you already had the subscription(s) on ebrary, the bottom line will nevertheless have a complete set of MARC records for your subscription(s) in case you want to replace your old ebrary records with Ebook Central records. If in the upgrade process you missed a set of update records and you want those instead, please contact the Technical Support Team for assistance.

To retrieve one of the listed sets of MARC records, click Download on the desired row. You will receive a zip file with separate MARC files for the Added titles and the Deleted titles, as well as a text file (csv) for both.
Schedule and options for Subscribed and/or Owned updates only
(for DDA options, please contact your Content and Workflow Consultant):
The following are the default settings. To make a change to one or more of these defaults, please contact the Technical Support Team by submitting your query on this
form
.
As of January 2018, you can now choose to include your owned titles with your subscription MARC updates. By default, your updates only include your subscriptions. Please submit a support case to add owned title MARC updates. 

Owned titles are included in the same MARC files as your subscribed titles - in other words the files are not separated by holding type.
Owned MARC updates will follow the same delivery options as set for subscriptions.

On the 28th of each month, the system will check for additions or removals for your subscription(s) and/or owned collections since the previous run. If there have been any adds or a deletes, a new file will be generated.

Option: You can request to change the frequency of these scheduled runs.

The files are provided via LibCentral as described above.

Options: You can request that the files be emailed to you or posted to your FTP host. You can also request that the MARC updates not be displayed in LibCentral.

"Full" MARC records are provided as available. "Express" MARC records are provided when a "Full" MARC is not yet available. >See more

Option: You can request only "Express" MARC records instead.
NEW (Jan 2018): You can request only "Full" MARC records to be delivered. With this option you will not receive the Express MARC for any titles that do not have Full MARC available. Instead, no MARC will be delivered for that title until the Full MARC becomes available. You will receive a .csv file with a list of titles that do not yet have Full MARC records.

Text files (csv) listing the additions and removals are included along with the MARC records.

Option: You can request that the text files not be included.
For other information about Ebook Central MARC records
>See more