(NEW) Did you know that we now offer access notifications for ALL platforms in either Excel or MARC format (or both)? Contact your customer service representative for details.
What digital content is available in OASIS?
OASIS provides customers with the opportunity to acquire content on the following aggregator and publisher direct platforms. As of October 5, all available content will be visible to all users by default and can be managed on the new Platform Settings page.
Ebooks
Bloomsbury

Brill 

Cambridge Core

Cairn.info* (availability varies by region)

De Gruyter Online

Ebook Central

EBSCO eBooks* (availability varies by region)

Elsevier: Science Direct

IGI Global: InfoSci OnDemand
Streaming Video

How can I request a digital content platform to be setup for me to order through OASIS?
As a Selector or Ratifier (Acquisitions)
There are 2 ways for librarians to request access to a new platform in OASIS.

1. The Platform Settings console

From the person-shaped settings icon in the top-right of the page, a user can select the new Platform Settings page. Here, they can control their own visibility for each platform, check a platform's status, or request access from the Electronic Resources Administrator. The Display toggle controls whether or not the platform will show in the Advanced Search platform drop-down, as well as whether the content will be visible in search results.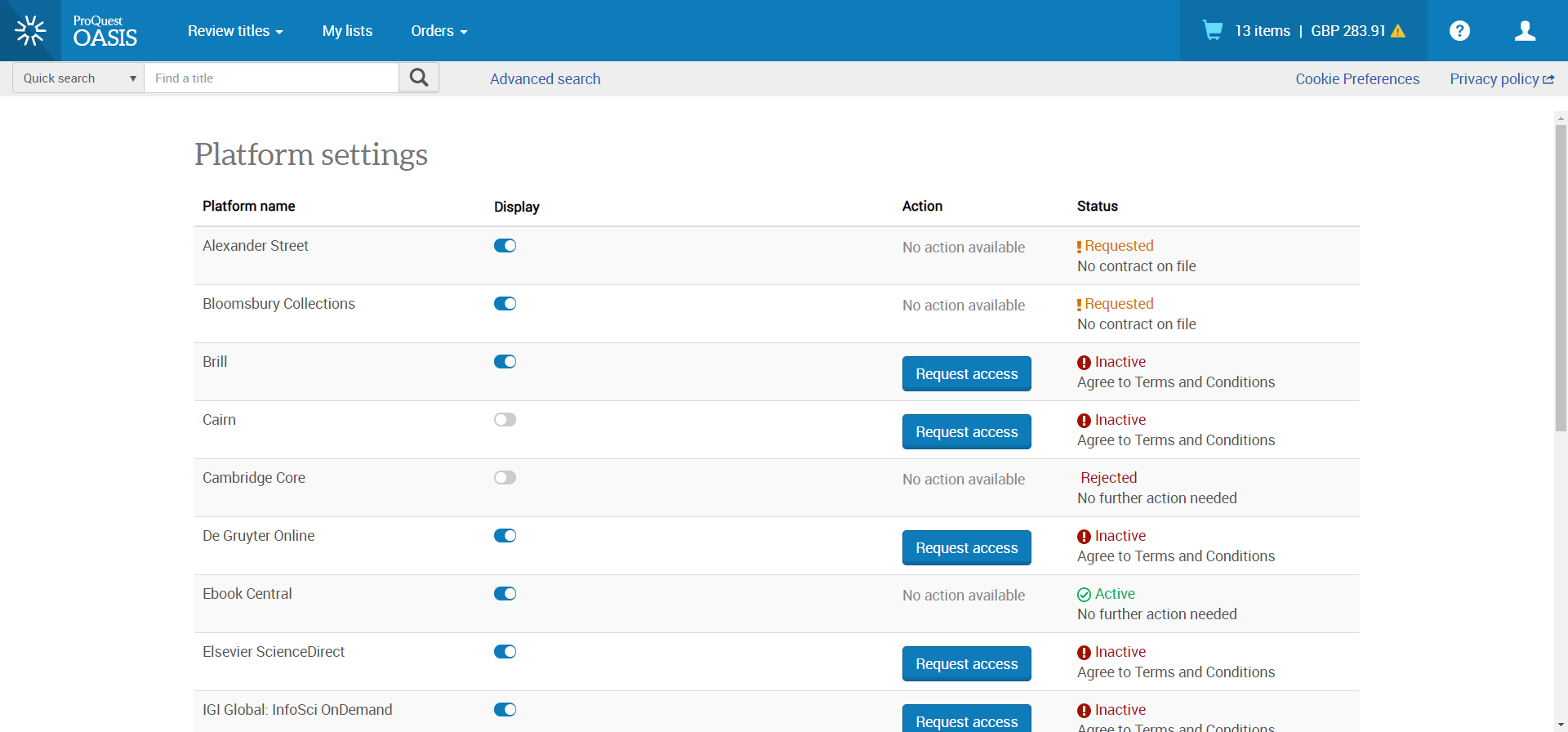 * If a platform has been rejected by the Electronic Resources Administrator, librarians will not be able to request access or turn on visibility. 

When a user requests access to the platform, the library's Electronic Resources Administrator will be notified with an option to begin the setup process, and the requestor will see a green banner indicating that the their colleague has been notified.

2. Request access for a specific title

If a user wants a title on a platform for which they are not currently setup there is a new link in the browse row to Request Access. 



Clicking on this link will send the same notification described above to the Electronic Resources Administrator, and will also automatically save the title to a new list in My lists. One list will be created for each Platform, and all users at the library can see these new Request lists. Platform Request lists are by default at the top of the lists screen. Users can request more than one book and save it to the list for future purchasing once the platform has bee set up.

As an Electronic Resource Administrator
Each library must assign at least one Electronic Resource Administrator. This is a new role which can be assigned by the library administrator. The electronic resource administrator can request platform setups in exactly the same places as other users at the library, but they have the final authority in approving setups, and their view will be slightly different.

1. The Platform Settings console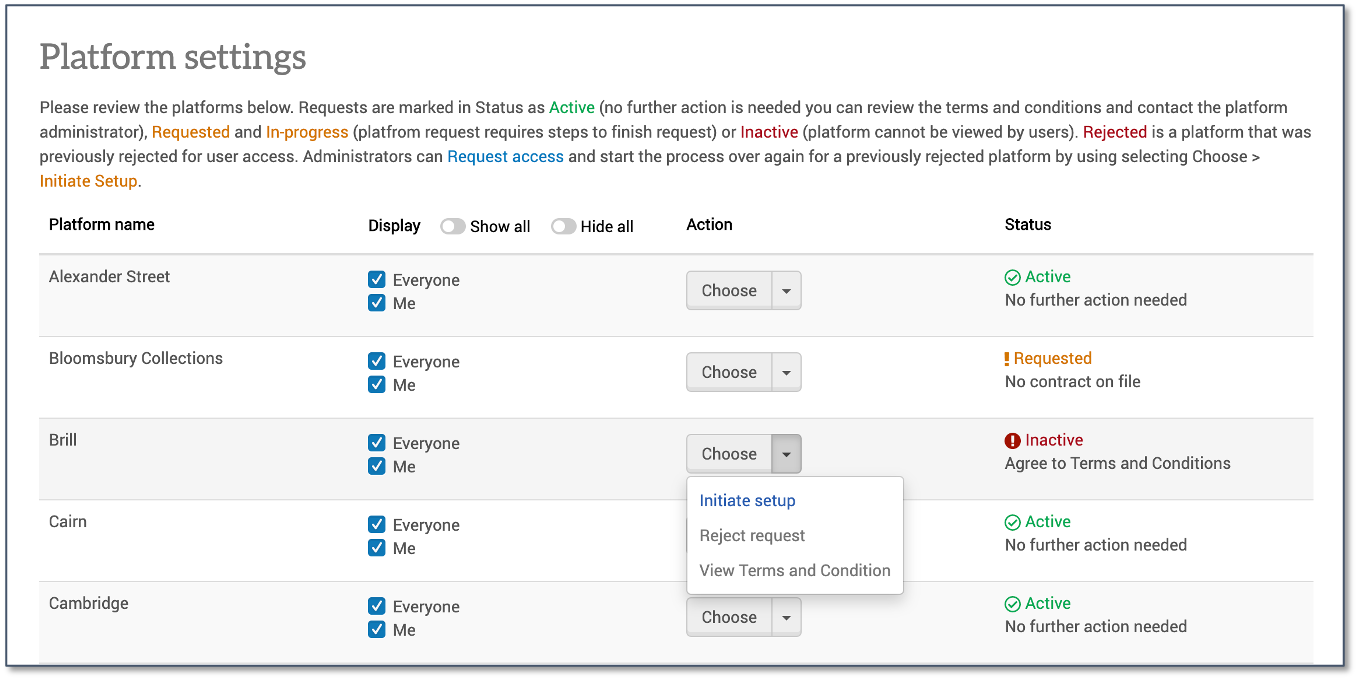 Display column: 
Here the Electronic Resource Administrator has the ability to show or hide all digital content platforms from their users. That action can be done in batch, using the toggles at the top of the table, or individually for each platform. 
Everyone - when checked, will allow visibility to all library users in the Advanced Search platform drop-down and in search results

Me - can be unchecked if the Administrator wishes to allow staff to view the titles but does not wish to see it themself. It is not possible for the Administrator to turn off visibility at the library level and retain it at the individual level.
Action column: 
The choose button has up to three options:
Initiate setup - click to initiate a platform setup

Reject Request - use this option to reject a platform request made by a selector or ratifier, or to pre-empt such requests. When a platform has been rejected, the "Everyone" and "Me" boxes from the Display column will become unchecked, titles will not be visible in search results, and selectors and ratifiers will be unable to request access to the platform from their settings page. An Electronic Resources Administrator may reverse this decision at any time by re-checking the "Everyone" box in the Display column.

View Terms and Conditions - when applicable, this link will allow Administrators to view the platform's Terms & Conditions agreement
Status column: 
There are five possible statuses for a platform. 
Active - platform is currently active and no further action is required.

Requested - a request has been made by a staff member to have a platform initiated but the request has not yet been approved by the Electronic Resources Administrator

In progress - a platform setup has been initiated but is not yet complete

Rejected - a request to set up the platform has been rejected or the Administrator has turned off visibility to the platform

Inactive - no request has been made and the platform has not been setup
2. Responding to an email

When a librarian requests access to a new platform, OASIS will send an email to the Electronic Resources Administrator containing details of the request and a customized link. The Administrator does not have to be logged into OASIS to approve the request. By clicking on that link they will see some variation of a dialog box, exactly like the one they would get if they initiated the request themselves within OASIS.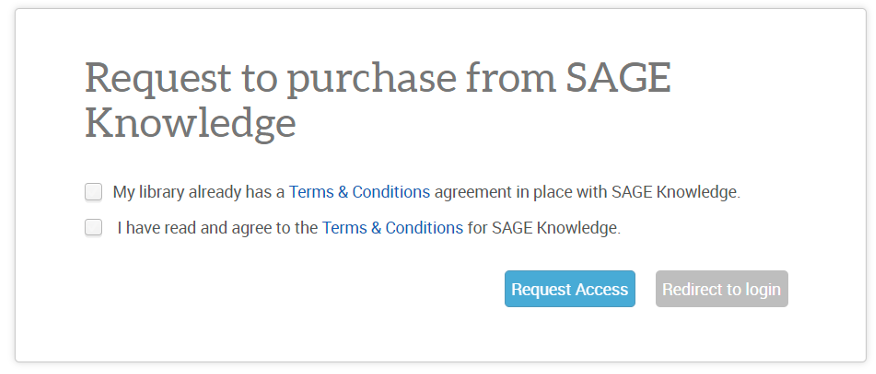 Based on the platform's expectations, the Electronic Resources Administrator will have the opportunity to confirm whether they are completely new to the platform or already have Terms & Conditions in place, and may be asked to review the agreement based on their response.

After clicking "Request Access" the Electronic Resources Administrator can expect to receive a confirmation email from OASIS with an estimated time to setup, and a followup email when setup is complete and ordering is ready to begin. In some cases they may be contacted if additional information is required.