How can I embed your content into our Learning Management System?
How can I embed your content into our Learning Management System?

Using LTI Launch URLs
Alexander Street supports standard linking to content using Learning Tools Interoperability (LTI) launch URLs. With LTI your instructors can more easily embed links to content and users can access the content using their credentials on the learning management system. With LTI there is no need to add proxy prefixes to the content page request and no need for the user to sign into the proxy. Simply use a provided LTI launch URL as shown below and paste it into the course page on your LMS.
Overview of the Steps
In the LTI standard terminology, Alexander Street's platform is the "Tool Provider" and your LMS is the "Tool Consumer". These steps outline how to set up and use a new Tool Provider in your LMS.
Administrator One-time Setup: Send an email to support@alexanderstreet.com asking for your institution's LTI configuration settings. They will send you a "consumer key" and a "secret".
Administrator One-time Setup: Configure the consumer key and the secret into your LMS, which typically involves "adding a new tool provider". Some LMS's call these "External Tools". The consumer key and secret we provide are a global setting that applies to any content on the Alexander Street site. How tool providers are added depends on the LMS (see tips below).
Instructor: To embed an LTI link to an Alexander Street media or document view, visit the view page on search.alexanderstreet.com and click on the "</> Embed/Link" option. A popup will appear that looks like this: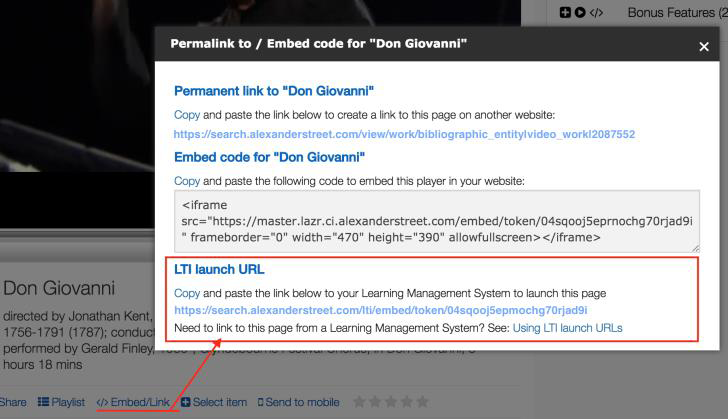 Instructor: Copy the URL labeled LTI launch URL into your clipboard.
Instructor: Paste this into the LMS page you want to link from. See the tips below on "Adding Links" for the LMS that you use.
User: Log into the LMS, navigate to the course page containing the link and click on the link. That's it! The user will be automatically authenticated as a member of your institution even if they are remote.
For details on where to find further information on the configuration settings and LTI use cases of your course management system, please see the support links listed below.
There are always more ways than one to accomplish something in a course management system, but these quick tips may help you get started and troubleshoot problems.
Quick Tips